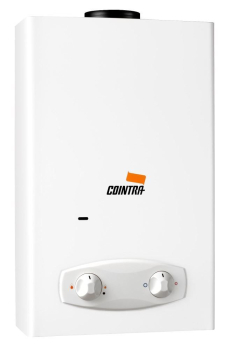 Cointra Optima 5 Litre Lpg Water Heater - COB-5
Stock Code: BOI011
In Stock for despatch
THEY FIT ANYWHERE
The OPTIMA heaters without pilot light offers high performance on sizes unthinkable until today. Their small size allows them to fit at any space, no matter how small. This unit will replace a Morco D61 or Bosch 5L water heater, to fit to the existing d61 flue an adaptor will be needed, available in associated items. To fit as a direct replacement for a Morco D51 or D 61 you will need to fit the stand off brackets supplied to bring the Flue in line. Do not be put off by this as the benefits far out way the simple modification needed, bringing safety of no permanent flame, lower gas usage and far higher water temperature.
The reduced dimensions of the Optima heaters offer significant advantages to both users and installation professionals.
- Optimizing gas discharge
Their short height facilitates the installation of longer vertical discharge tubes thus optimizing the discharge of combustion products (PDC)
- Installation in confined spaces
The size of these units, with the smallest depth at the market (129mm for 5l models and 181mm for 10l ) means they can be installed in small spaces.
- Easy installation
Their small size contributes to a better handling, making it easier for the professional in installation of the unit
SAVE ENERGY
The Optima range is born to contribute, by its use, to reduce energy consumptions. The absence of pilot light at all models, together with these outputs will fulfill it:
- Electronic ignition by battery
- Flow selector
- Manual Power selector (between 50% and 100%)
COMPLETELY SAFE
The Optima range includes the most effective safety systems:

- Flame control by ionization
- Control unit of TTB gas discharge
- Protection dispositive from overheating the heat exchanger
- Anti-freezing security: are equipped with a hydraulic drain valve, with easy access, that allows to empty completely the unit in the event of an imminent freeze, preventing any damages.
| | |
| --- | --- |
| features | Non-pilot instant LPG water heater |
| specifications | CE Approved |
| Width | 280mm |
| Height | 450mm |
| Depth | 129mm |
| Ignition | Automatic battery ignition |
| Gas consumption | 0.32 - 0.79 kg per hour |
| Fuel | Propane gas |
| Flow | 5.1 liters of water per minute |
| Made in | Spain |
Click on any of the following links to download the file.
Terry Hadley - 09/07/2016
I Was advised by the caravan warehouse about the new range of water heaters they now stock to...
read full review
(1 review)
Related Products