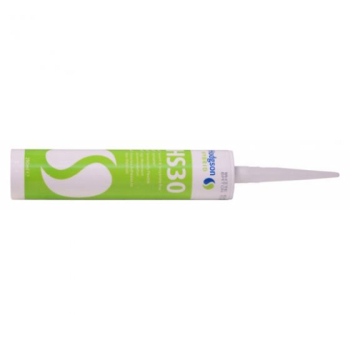 Hodgson HS30 Hybrid Polymer adhesive sealant Black
Stock Code: SE051
In Stock for despatch
HS30 is a one part, neutral cure adhesive sealant based on Hodgson Hybrid Polymer Technology.
Suitable for the sealing and bonding of internal and external joints in a wide range of construction and industrial assembly applications where permanent flexibility is essential. These include the manufacture of commercial and specialist vehicles, leisure vehicles, caravans, residential park homes, modular buildings and façade applications. It has an extended open time for tooling, can be painted* and has high UV resistance.
APPLICATIONS
An all-purpose sealant suitable for sealing expansion joints and gap filling to form a weatherproof and watertight seal.
High movement accommodation
Permanently flexible
Paintable
Solvent & Isocyanate free
Low odour
High movement capacity
Extended open time, for tooling
Cures tack free and highly elastic
Fast curing
Excellent storage stability
Built in Anti-Microbial technology
PROPERTIES
Application temperature range: + 5oC to + 40oC
Shelf life: 18 months
Skinning time: 20-40 minutes
Working time: 20-40 minutes
INSTRUCTIONS
Joint design: Please consult the Technical Information Sheet entitled 'Joint design for cartridge based products' prior to application.
Surface preparation: All surfaces must be clean, dry and free from frost, grease and loose materials. Apply primer if required. Most substrates only require priming if testing indicates it is needed. Apply using a skeleton gun into the joint ensuring good contact with surfaces. In situations where an especially neat finish is required, use masking tape to cover the face edges of the joint and remove immediately once tooling has been completed.
Tooling: Tool immediately after application, within the working time for the product.
Click on any of the following links to download the file.