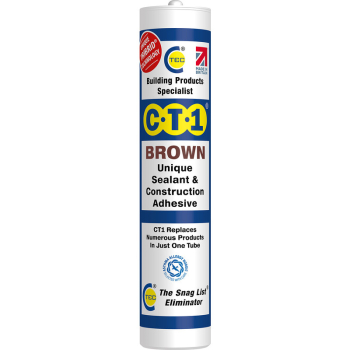 CT1 Adhesive & Sealant 290ml Brown 535406
Stock Code: SE065
In Stock for despatch
Securely bond materials in place using CT1 sealant and adhesive. This versatile product can be used both indoors and outside, making it a popular choice for repair and construction jobs. It's UV-resistant, which means it won't fade or shrink in the sun. To install, put the cartridge into a dispenser gun and apply it neatly to the desired place, with no need for extra fittings.
Once fully cured, CT1 sealant and adhesive can be painted with most water-based products. It's also resistant to vibrations, so it's well-suited to high-traffic areas and heavy winds. For your health and wellbeing, this environmentally friendly item is free from solvents, isocyanates and odours. It's often used to repair fibreglass and carbon fibre boat hulls, as well as internal and external window and door surrounds. You can even use this practical product to fix items that are underwater.
• Works in wet or dry conditions, even under water
• Can be used in all salt water environments
• Unique flexibility and does not shrink
• Excellent colour retention and UV-resistant
• Can be painted with most water based products when fully cured
• Solvent-free for interior use as well as exterior use
• Excellent resistance to chemicals
• Moderate resistance to fungal and bacteria growth
• Excellent resistance to vibration
• Perfect for marine and boating maintenance, accident and emergency repairs
• Instant repair and bonding with fibreglass and carbon fibre materials
• Odourless
• No isocyanates
Certifications:
• Approved by NAAF – Norwegian Asthma and Allergy Association
• EC1 Plus Certified A+ Indoor Air Comfort GOLD®
• ISEGA Certified – Conforms to Food Preparation Standards
Click on any of the following links to download the file.